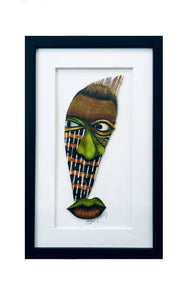 Size:  12 1/2" x 20 1/2 " x 1/2" Black Frame
Recessed with White Single Mat Acid Free Mat Board.

Cut from Masonite, with Acrylic Paint and Mix Media.
*Mask were created with the purpose of enjoyment and to stir the imagination and were not intended or created for spiritual or ritual celebrations.

* This product requires signature on delivery.